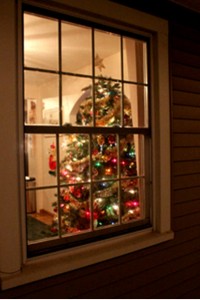 Season's Greetings! If you are like most of us, you have many plans and preparations to do for the holiday season. If you have an elderly loved one living in a nursing home, you might dread the holiday visits. But visiting the elderly doesn't have to be a daunting task. Socialization is healthy for the elderly and during this time of year it is especially important to include your elderly loved ones in your plans and preparations.
Sometimes it's important to do things we would rather not because they are the right thing to do. And by visiting, you are helping to boost your elderly loved one's attitude. Remember that this is a time for giving. Think of ways you can give your time to create a memorable experience during your visit to the nursing home.
Here are some ideas to make your visits more enjoyable.
Contact the nursing home in advance to find out what activities are occurring. Ask if your loved one is usually involved and if family can join in. Some nursing homes will have family events during the holiday season to help family to better deal with their loved one's mental and health issues.
Bring along a holiday project to include your senior loved one in. Some of the best conversations happen while working side by side on a project. Even when a loved one is in a nursing home, there are still projects that he or she can do with you. Depending on the level of mental awareness and mobility your loved one has, consider projects and games that can be done at a table. And if your loved one is bedridden, help decorate their room or bring a project that you can show them.
Play seasonal music to create a festive atmosphere. Most elderly appreciate some good jingles such as "Hark the Herald Angels Sing", "Away in the Manger", and "Silent Night". Bring traditional holiday music from artists they will recognize like Bob Hope, Bing Cosby, and Elvis Presley. Sing along with holiday songs. And you might even find some other residents interested in impromptu caroling and performances from the grandkids.
Watch a traditional holiday movie. There are many older movies that might have some of your loved one's favorite actors in them. Some great choices to rent a DVD are "A Christmas Carol", "Miracle on 34th Street", or "It's a Wonderful Life". Remember, when you watch a movie with senior citizens you might need to put the sound up.
Socializing is important for a senior citizen's health. And when the senior is already trying to deal with illnesses and disabilities associated with aging, it is critical that he or she is not further isolated to avoid depression. While visiting him or her in a nursing home, remember to be patient. Laugh often. And create a festive environment that is fun for both you and the one you are visiting.
While making your holiday visits, you might notice your loved one needs more care than the basics that the nursing home offers. Although you might already have a caregiver in the family tirelessly providing services, there are often times the services of a professional caregivers can help.
Our professional caregivers can monitor your elderly parent or grandparent, administer medications, prepare meals, and assist with bathing so you can take some time for yourself. Besides offering gift cards to give a family caregiver a break, Because We Care provides services through many government programs and Medicaid. Call us for more information at (770) 385-0300 or contact Rodney at rodney@becausewecare.net.