It's no secret that seniors are living longer and having a higher quality of life compared to past generations. To maintain the best quality of life, most seniors want to keep their independence for as long as they can. They want to remain comfortable in the familiarity of their own homes. And they are realizing that when they do have disease or illness that threatens their quality of life, in-home care may be an option. That option is becoming increasingly popular.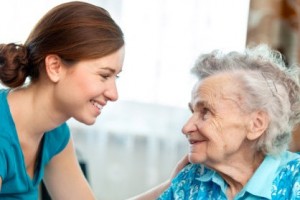 Many times the quality of life for a senior is affected by mobility problems. A senior can get by if they had some help. At other times a senior's cognitive skills could be diminishing. A senior can get by if they had some help. For seniors with disabilities and illnesses, it can be difficult to adjust their lifestyles if they live alone and it can be stressful for a spouse or other family member to try and take on the task as caretaker. But is the added tension of being in new surroundings with an assisted living home the answer? If they can get by with a little help, the better answer may be in-home care.
Getting Non-medical Assistance from a Caregiver
Often when the issue of getting by with help involves non-medical assistance, the services of a caregiver may be appropriate for the senior to continue living at home. Non-medical services are activities of daily living. They include such activities as transportation, administering prescribed medicine, bathing, light housekeeping, meal preparations, and grocery shopping. Home care is personalized and tailored to the needs of each individual.
For example, a woman may have hip-replacement surgery. She now needs a walker to get around but is otherwise healthy. Instead of going to a nursing home for rehabilitation, a caregiver can help get her to and from the rehabilitation center or a therapist can come directly to her home. A caregiver can also help with walking or using a wheelchair, doing her errands, including grocery shopping, making her meals, and housecleaning.
In another situation, a man has Alzheimer's and needs assistance that is not medical-related. A caregiver can help him with paying his bills, getting him to appointments, and managing his medication. The caregiver can also provide companionship while helping with transportation that prevents the man from going out and getting lost. This is much needed peace of mind for the man's family.
In-home Care – a Low Cost Solution
A very real problem is that when seniors and their family need to make a decision it is most often being made while the senior is in the hospital. There is a rush to find an assisted living home and when one is not immediately available it can result in an extended hospital stay.
The services of in-home care may be a lower cost solution compared to assisted living. Besides allowing a senior to remain at home, they can save on costs based on the kind of care needed and how many daily hours they need this care. In-home care is also less expensive than lengthy inpatient hospitalization. And it can prevent reoccurrence of hospitalization and reduce the need for urgent care.
Find out more about how choosing in-home care may be right for your senior loved one. Contact Because We Care at 770.385.0300 for information.