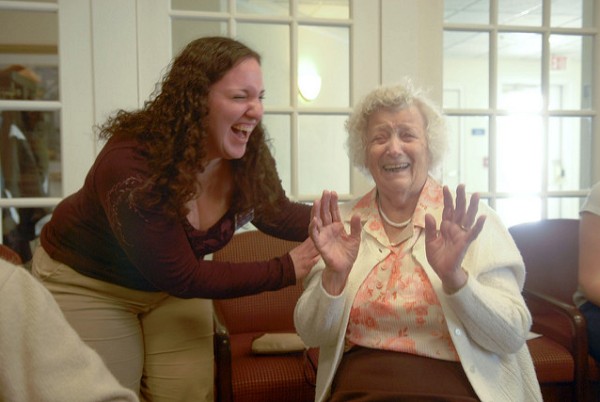 "Laughter is the closest distance between two people." ~ Victor Borge
The above quote reminds us about the importance that laughter has in helping an elderly person to live a better quality of life. Sometimes, the biggest thing that person needs to get through the day is a companion to laugh with, someone who is jovial.
It can be difficult for a family caregiver to continuously be cheerful and help bring laughter into a senior's life when the senior is dealing with a disability. Many times the focus is on caring for the senior and making their life more comfortable and bearable, and this is definitely important. However, oftentimes the needs of the caregiver are overlooked.
There could be feelings of regret, resentment, and other emotions that build up over time. The pressure from the responsibility of care could strain family relations beyond what the family ever envisioned. And that pressure can make it very difficult so that even the most even-tempered caregiver finds it hard to be cheerful and good-humored all of the time.
Whether provided full time or part time, caregiving is a job. Like every job, breaks are a necessity to re-energize and maintain a positive outlook. This is true even for the closest of people. While caregiving can bring a family provider closer to the senior recipient than was ever imagined, there is a lot of work and stress in the job. To relieve stress, the person who provides care needs to take breaks.
Here are 3 ways a caregiver can get a much needed break:
Ask another family member to help.
While this might seem obvious, often others in your family misinterpret your needs. Perhaps you are the type of person who wants to provide comfort and care. You've agreed to provide care and during most of the time you enjoy being a caregiver. The problem is you can't provide care 24/7 so you need to ask for help.
Make it clear that you still want to be the primary caregiver, if this is your desire, while providing a plan for how your family might step in to give you a break. Remember to be flexible when working out a plan. See if someone in your family can come on an easier day where there are not so many things your senior loved one needs. This will not only make them more likely to help out more, it will help ease you of things getting done properly and reduce your time in explaining what is needed.
Find a senior daycare or community center that provides activities.
Seniors want to remain as active as possible and senior daycare or community centers offer activities throughout the day that can work well for seniors with certain disabilities. Activities can vary widely from card games, to arts and crafts, and to senior-level exercise sessions.
You may be able to bring your senior there during an entire week, for certain days of the week, or for a specific part of the day. Check with the facility's schedule to see their policies. In addition to activities, these facilities often offer transportation, meal plans, and oversight to help reduce your worry. For example, a senior center typically has a receptionist at the entry points so if your senior has Alzheimer's or dementia, the receptionist would prevent them from leaving unattended by someone you have approved. In some cases, the facility may have nurses or other provide other specialists for optional services.
Hire a personal caregiver.
Juggling the demands of life can be demanding and sometimes other family members are too busy to help. Agencies such as Because We Care provide personal caregivers when you need them. This can be a number of hours one day per week to multiple days in the week and to overnight care. And unlike senior daycare or community centers, you will have more flexibility with your schedule from week to week. Plus, they can come into a nursing home or individual's home to perform a variety of services. Some of the services provided include preparing meals, dispensing medication, performing light housecleaning, running errands and giving companionship. Additionally, when you get a personal caregiver to assist you in the care of your senior loved one, you can leave your senior in the location they reside while you take that much needed break.
With proper help caring for your senior loved one, you can take the time off you need to handle your own personal needs. When you get the breaks, you are less likely to be overly stressed from the responsibilities of caregiving and more likely to provide the laughter and good temperament that your loved one needs.
If you would like more information about how Because We Care can help provide a family caregiver with a much needed break, contact us at 770.385.0300.